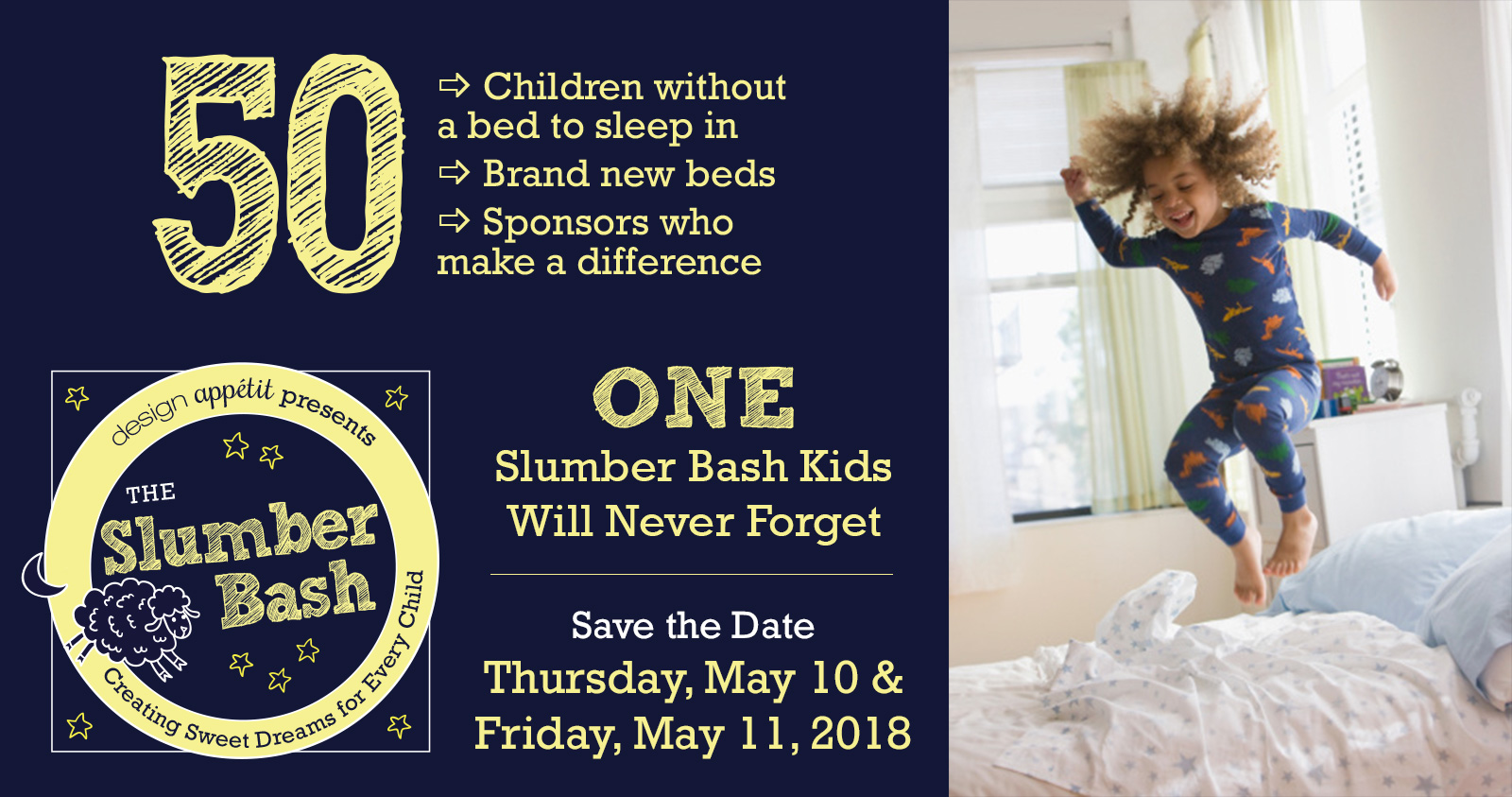 What is the Slumber Bash?
Thursday, May 10 and Friday, May 11, 2018
The Criterion • 500 E. Sheridan Ave. • Oklahoma City, OK 73104
The 3rd Annual Design Appétit will be an exciting multi-day event serving the mission of Focus on Home – providing furniture to families transitioning out of homelessness.
We invite you to help us provide 50 new beds to 50 deserving children by participating as a chef, designer, or sponsor!
For Questions & Inquiries: Nicole Thomas • Nicole@EpicEventsOK.com • 405.706.7484
Schedule of Events
Thursday, May 10th
Guests and sponsors will enjoy a beautiful 4-course dinner prepared by local chefs thoughtfully set at themed tablescapes designed by local artists and designers.
Following dinner, sponsors will be invited to prepare the beds of their sponsored child and write an encouraging note to their appointed child.
Friday, May 11th
Focus on Home will throw an unforgettable Slumber Bash for 50 deserving children who will each be gifted with their new bed. The evening will feature unique children-inspired entertainment, arts & crafts, a movie extravaganza, and more!
Sponsors will be invited to a special mocktail cookies and milk party to kick off the Slumber Bash and meet the child they have sponsored.
Saturday, May 12th
Beds will be delivered to the children's homes early in the morning so each child may enjoy a comfortable nights slumber for many years to come!
Our 2018 participating design teams include:
Honorary Chef de Cuisine: John Bennett
Our 2018 participating chefs include:
Jacque Babb Methvin, Scratch Kitchen & Cocktails
Jonas Favela, MMR Prime Steakhouse
Jonathan Krell, Patrono
Josh Valentine
Kevin Lee, Vast
Kurt Fleischfresser, Vast/Western Concepts
Michael Paske, Café 7
Mitchell Dunzy, Esca Vitae
Ned Shadid, Ned's Catering
Patrick Clark, The Red Cup
Patrick Williams, Flint
Third Annual Design Appétit
The Slumber Bash
May 10 and 11, 2018
The Criterion
500 E. Sheridan Ave.
Oklahoma City, OK 73104