about design appetit
The 4th annual Design Appétit will be an exciting multi‐day event showcasing the unique, one‐of‐a‐kind
dining spaces created by the metro's most creative minds including architectural firms, interior
designers and collaborative design teams. The spaces will be open for public viewing by day
and will serve as a beautiful event space for private, by invitation only parties each evening.
Wednesday, May 1st – Each design team will decorate tables and set up for event.
Thursday, May 2nd – Daytime public viewing from 11am – 2pm.
That evening, guests and sponsors will enjoy a beautiful 4-course dinner prepared by local chefs thoughtfully set at themed tablescapes designed by local artists and designers.
Following dinner, sponsors will be invited to prepare the beds of their sponsored child and write an encouraging note to their appointed child.
Friday, May 3rd  – Focus on Home will throw an unforgettable Slumber Bash for 50 deserving children who will each be gifted with their new bed. The evening will feature unique children-inspired entertainment, arts & crafts, a movie extravaganza, and more!Sponsors will be invited to a special mocktail cookies and milk party to kick off the Slumber Bash and meet the child they have sponsored.
Saturday, May 4th – Beds will be delivered to the children's homes early in the morning so each child may enjoy a comfortable night's slumber for many years to come!
All proceeds from Design Appétit benefit Focus on Home, a not‐for‐profit, IRS recognized 501 (c) 3
organization. The purpose of Focus on Home is to help families integrate into a healthy family lifestyle.
We work closely with partnering agencies to identify clients in need and on their personal path to
improvement. Our clients are families who are currently living in sub‐standard environments. Once a
client has been referred to our program, we will work with them to create a personalized home
environment based on their specific needs. We will work with the community to repurpose gently used
furniture and housewares in the creation of the client's home. Enabled with the help of
volunteers, Focus on Home will set up the new home environments for our clients; helping those
families put their energy, time and resources into creating a positive future. Through our
encouragement of volunteerism we are contributing to a stronger sense of community by helping and
serving others. Visit www.FocusOnHome.org to learn more.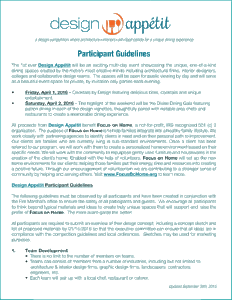 Download Participation Guidelines. Last updated February 16, 2016.
Questions?
Nicole Thomas, Epic Events – 405.706.7484; Nicole@EpicEventsOK.com